EASILY IMPORT ANY RESOURCE FROM YOUTUBE IN JUST 3 SIMPLE STEPS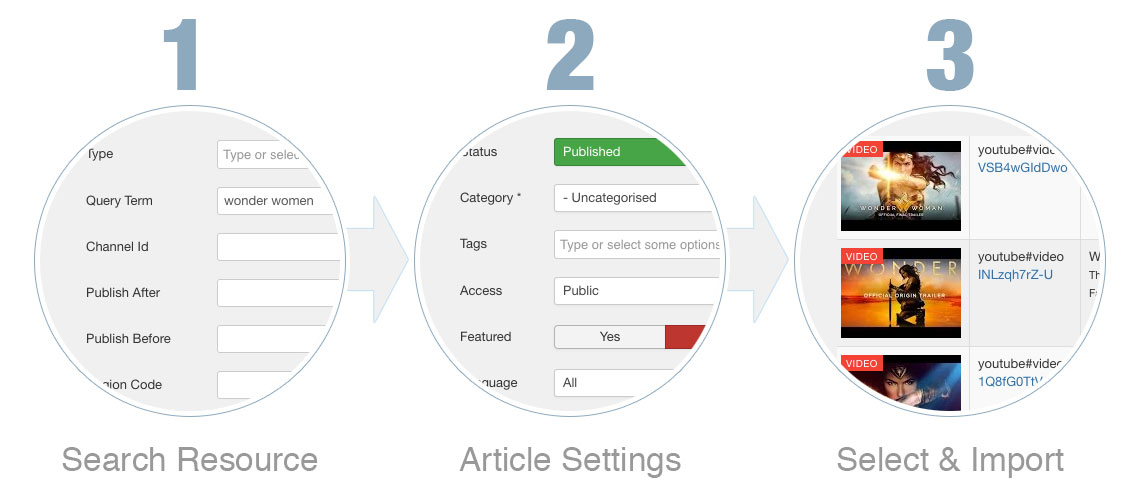 SET UP CRON JOB TO AUTOMATICALLY UPDATE NEW VIDEOS DAILY
DO LESS, GET MORE
Forget about complicated embed code for video player and playlist. All you have to do is to select content displayed on your site, after that, let us do the rest!
IS THE COMPONENT BEHIND OUR VIDEO TUTORIAL WEBSITE
"The best demonstration is seeing how it works in production sites"
Check it out!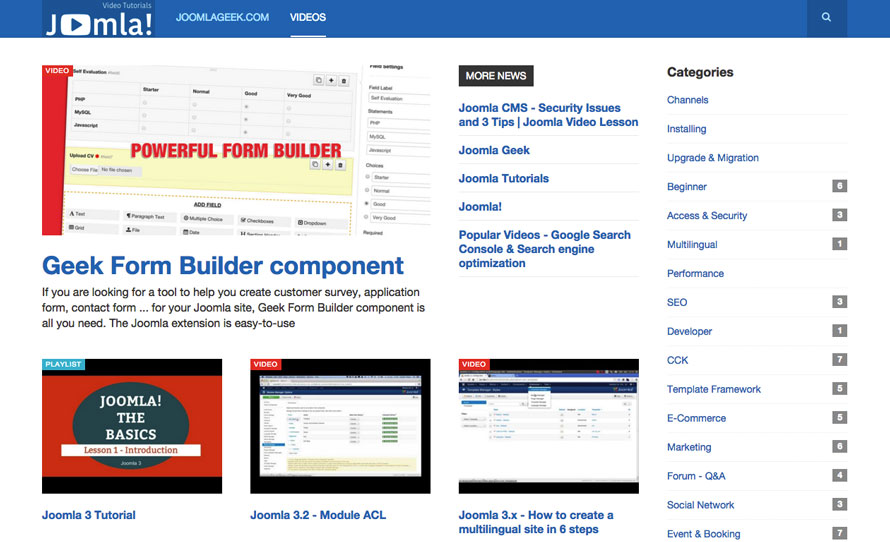 ---
BUY WITH CONFIDENCE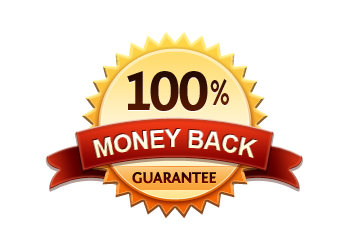 If for any reason, you are not satisfied with your purchased products, we will refund full amount, no questions asked (please read our Refund Policy).
You will have 7 days to try out the product and make sure that it fits your needs.
Reviews
There are no review yet.
Add Your Review
Please
login
before submit your review.
Version 1.6.2 - Bug Fix release
Release Date: Oct 13, 2021
Fixed. error batch processing in Joomla 3.
Version 1.6.1 - Bug Fix release
Release Date: Oct 07, 2021
Fixed. errors in MySQL strict mode.
Version 1.6.0 - New Features release
Release Date: Jun 22, 2021
Updated. compatibility with J4 RC2.
New. system plugin Geek Video Importer - a CLI Application in Joomla! 4 to help with importing videos from profiles.
Updated. some minor improvements.
Version 1.5.1 - Bug fix release
Release Date: Jun 21, 2020
Fix. Can't search playlists that created by selected channel.
Version 1.5.0 - New Features release
Release Date: Jun 05, 2020
New. Create and manage importing profiles.
New. Create CLI application that enables users to import videos from the command-line interface.
New. Add setting for enabling/ disabling "Create by alias" feature
Version 1.2.1 - Bug fix release
Release Date: Oct 08, 2018
Fix. error on Joomla 3.7 and older versions.
Version 1.2.0 - New Feature Release
Release Date: Aug 22, 2018
Update. to compatible with Joomla4 Alpha4.
Add. information of update server.
Version 1.1.0 - New Feature Release
Release Date: Jun 09, 2017
NEW. Select "Video Upload Date" or "Current Date" as created date of imported article
Version 1.0.0 - Initial Release
Release Date: Feb 05, 2016
FREQUENTLY ASKED QUESTIONS
After the payment process you can instantly download the product from the Customer Area section. (Navigate to My Account >
Downloads
)
In addition, we will send you an order confirmation email with all order and download information, so you can check back any time in the future.
Yes, You will have ONE YEAR free downloads any new updates of purchased products from your purchase date.
There is no restriction on using our products even after the order expires, but access to downloads, support and new releases are not available. As a loyalty bonus we offer flat 30% OFF for renewals (
send us email
to get a Coupon code).
Yes, you are authorized to make any modifications to achieve your desired intention. All code are open for modification if you need.
No. You are not allowed to re-sell our products. However, you are entitled to customize them for your clients.
We provide support through:
- Documentation: You can find 60% the answers for technical issues in our
Users Guide & Documentation
page.
- Community Forum: For all customers, both Free and Paid User.
- Premium Support Ticket: Premium support is provided for active membership. You can create a ticket
here
.
- Official support hours is from 9:00 — 17:00 Monday to Friday (GMT +7) with reply time of max 24 hrs.