A Chat Bot is an artificial intelligence, a "living entity" designed to have conversations with real human being. Since Chatbots are interactive, conversational agents capable of interacting on your website with your customers, one of the biggest benefits is for a business to save money by cutting the cost of employment in their customer service departments, the bots can sit on your site "talking" to customers 24 hours a day, 7 days a week processing data and assisting customers. The potential business benefits of chatbots can be explain more in article Geek Joomla Facebook Chatbots - Work Smart with our Logic
If your site is based on Joomla core and you are looking for chat extension that has a automated bot to respond to users? JoomlaGeek is the provider for your ideal choice!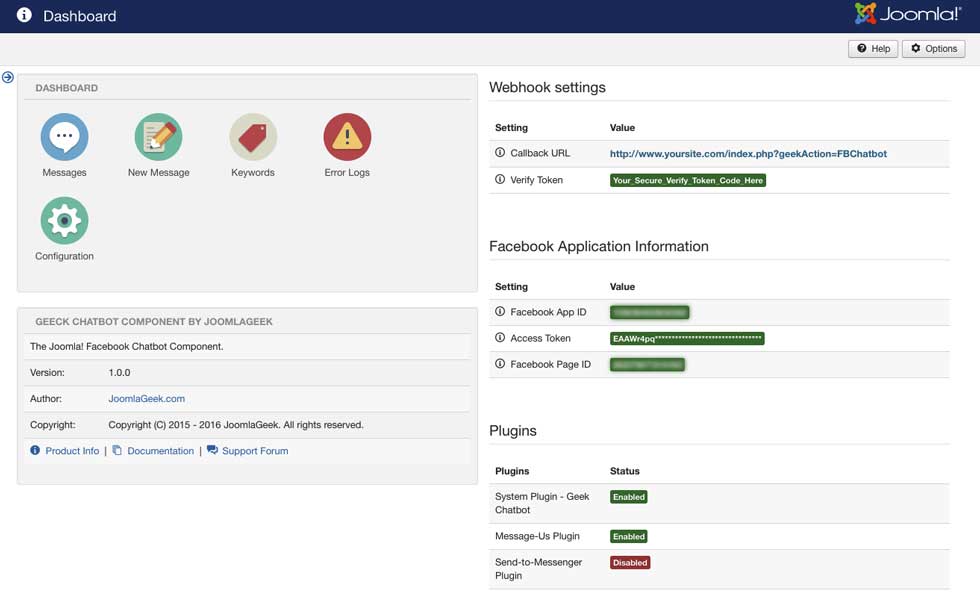 Today, JoomlaGeek releases Geek Joomla Facebook chatbot which offers you alot of following great features on the next sections.
CHAT WITH OUR BOT! PRODUCT INFO
4 message types variants for different purposes
Chatbots often treat conversations like they're a game of tennis. Talk, reply, talk, reply — they go back and forth. Geek Facebook Chatbot provides 4 different type of message for smart automated response : Text, Image, button or Generic template
Text Type
Many helpful information can be sent automatically to users or customers.

Image Type
Picture can paint a thousand words so that sending an image can be the best way to describe what you want to say during the conversation.

Control conversation with Button Type
It supports to send post back buttons to user to control the conversation and make sure user can reach the businesses they care about.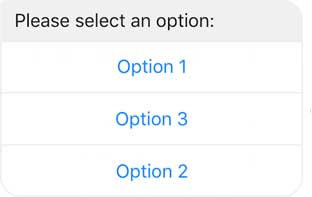 Generic template
The Generic Template can include an image, title, subtitle, description and buttons. The template can support multiple bubbles per message and display them as a horizontal list.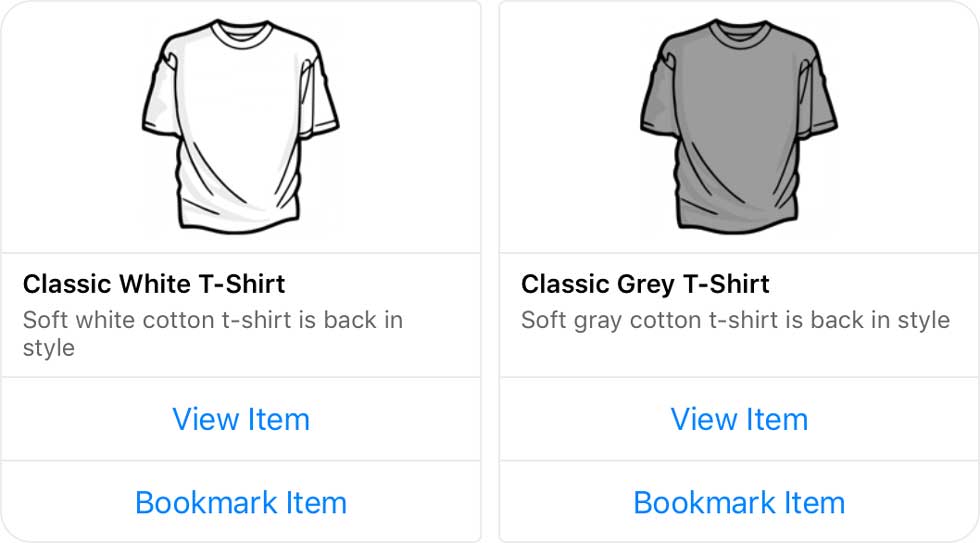 Unlimited automated message
The Geek Facebook Chatbot sends the answers by spitting out canned answers in response to certain keywords.
Geek Facebook Chatbot provides a flexible system and smart logicbot that help to return most related messages to user questions

Friendly Welcome Screen
You can set welcome screen message to introduce the most important information about your company / business to user when they start a new conversation.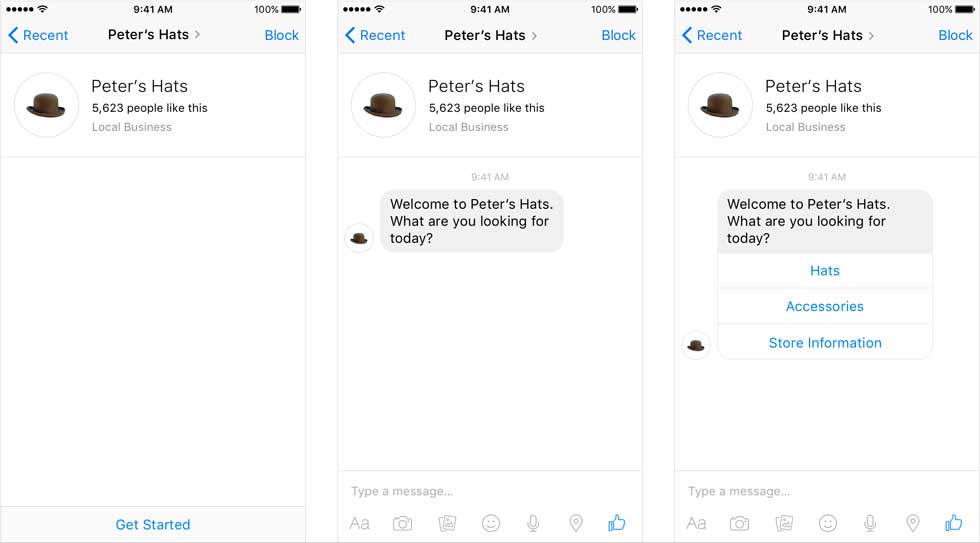 Start a conversation easily via entry points
There are two plugins you can drop onto your website that work on desktop and mobile web. When people click the "Send to Messenger" plugin, you can initiate a conversation with them in Messenger. The "Message Us" plugin takes the person directly to Messenger and allows them to initiate a conversation with you. On desktop, the person will be sent to messenger.com and on mobile they'll be sent to the Messenger native app.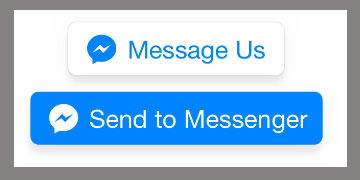 Powerful and Friendly admin management panel
Admin control panel has been designed with power and simplicity in mind that allow you to manage, customize your chatbot easily.
Messages management
Message Management section let you create new, edit, publish, unpublish and delete messages easily.

Keywords management
Besides functions of creating new, editing, publishing, unpublishing and deleting keywords, administrators will discover what popular keywords based on the keyword weight index. Analyse of keywords will optimize the effection of you chatbot.

Error logs
The Error Logs capture all the warnings and errors logged by plug-in that are very handy for debugging and tracing any unseen errors.

Chat with Geek Facebook Chatbot now?
Now start a conversation with our chatbot and see how smart it is!
Let's try some following keywords when chatting with our bot then see the magic!

JoomlaGeek Hello Help Developer Developer Package All in one Full Access Disqus AddThis Facebook Comment Free Extension Slideshow Chatbot Facebook Messenger Facebook Embed Embed Facebook Free Extension Form Builder Form Creator Form Generator Google Map GoogleMap Landing Page Splash Page Layer Slider Layered Slider Masthead Free Extension Popup plugin Simple Gallery Screenshot backend settings coupon discount promotion support forum documentation bye thank you
Try Geek Joomla Facebook Chatbot with lowest price?
Now it is time to play with our amazing product - Geek Joomla Facebook Chatbot with a fraction of the cost. We're offering a great chance for you to try the component with lowest price.
Applied coupon code : GKBOT to save 20% OFF on purchasing Geek Joomla Facebook Chatbot or Developer Package
Valid Until: 16th June 2016 and Don't be too late!
CHAT WITH OUR BOT! PRODUCT INFO