Are you a developer or designer? Are you looking for Joomla Layer Slider module to inspire your site with other people? Here we are going to introduce you an joomla module - Geek Layer Slider which plays an important role in building a beautiful site.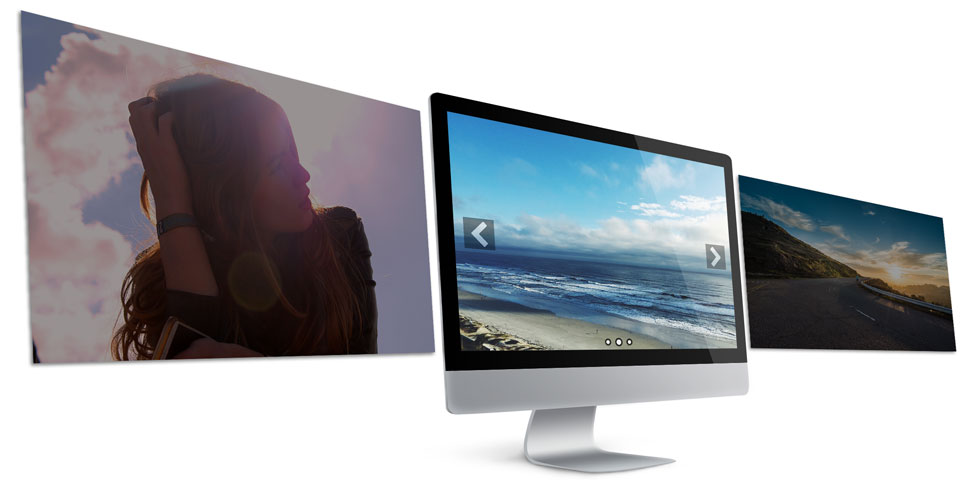 Now, it is high time for you to scroll down and have a look at some useful and beautiful features of that you can use for your site.
Why choose Geek Layer Slider
Geek Layer Slider Module combined with cutting-edge design and features that brings traditional sliders and content delivery kicking and screaming into the modern online world. You can use Geek Joomla Layer Slider to create following multi-purpose sliders to your site!
Large headers: a responsive full background image impresses for your brand or business which are seen on design, portfolio and content-driven sites.
Vanity Cards and Site Intros: engage your visitors with a handful of slides and its sliding animation.
Call To Action Banner: The module allows you to easily create Sale or Features page, or a specific post with rich styles of text, images and buttons.
Product Tours: Sliders are most effective for marketing products with visuals, tagline and core message.
Photo Slideshow: A beautiful slideshow using featured images and background images that allows to control over linking and presentation.
Testimonials: Now module offers an auto-sizing option and rich text editing to make creating testimonial slides at ease and fun.
Video Slideshow: If you want to feature a video and really make it pop, the module offers an easy way to showcase videos.
And more...
Features list of Layer Slider Module
Simple-to-use Backend Settings
The module has a beautiful and easy-to-use admin interface integrated visual editor with supporting modern features like drag and drop, real-time previews, ..etc.. which allow to create well designed sliders with comfortable experience. In addition, a list of controls that allows you to include images and other media with flexible setting of animations in sliders.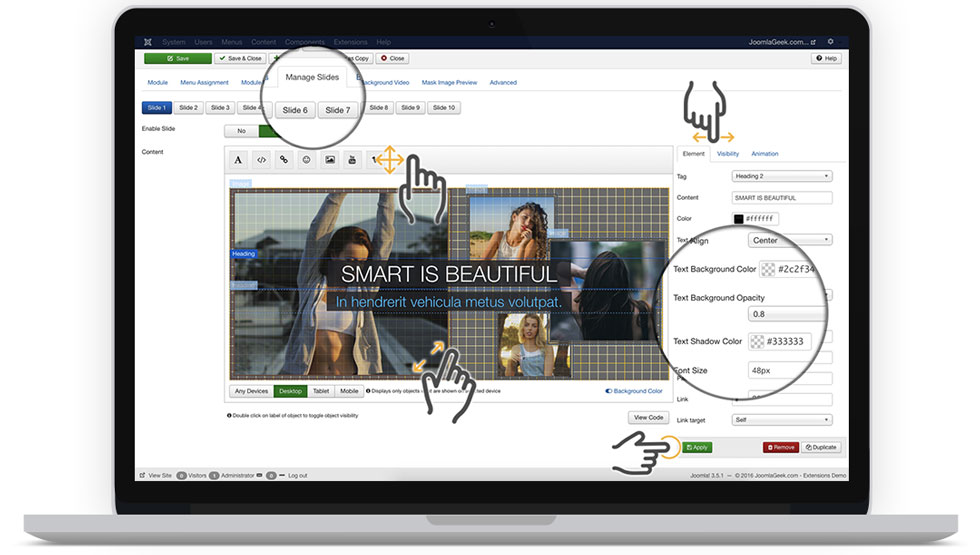 Drag-n-drop Page Builder
Drag and drop function that are integrated into the plugin, you can basically do whatever you wish with any page's design, and this sort of customization is available through a very easy to use interface.
Rich Layer Editor
The best part about the Geek Layer slider is the incredible number of customizations that you can make with images, videos, headings, icons, …etc... You can literally create 2D or 3D animated multiple sliders, choose button or thumbnail navigation, choose the exact transitions.
Ability to View/Apply Source code
This feature helps you to quickly clone page from other ones by copying source code from layer editor of the page what you want to clone and paste it into layer editor of target page, then click Apply Code to generate page content.
More visibility settings
Adding more settings of visibility like text background color, text shadow, font size, font weight, border style, etc.. supports you to create a p rich content page
Well Organized Sliders management section
Version 2.0.0 of the module improves slider management section with Tab UI. This removes uncomfortability of current slider management section when editing slider content like scrolling up/down page or expanding/collapsing the accordion section.
Turn on/off background image of Layer Editor with Toggle button
The improvement offers you an ability of setting color of an element on page matching with background color without saving setting or refreshing frontend page for further checking. This is time saving tips to improve designer's workflow.
Support to turn ON/OFF loading Bootstrap Framework
If your template is not based on bootstrap framework, you might face with some issues of responsive like element hidden or not shown on specific devices. In this case, you should enable this setting to fix this issue.
Unlimited Layers for each slider
Layers will be over the background, you can set unlimited Layers for one slider. The Layers could be images, texts, HTML and video.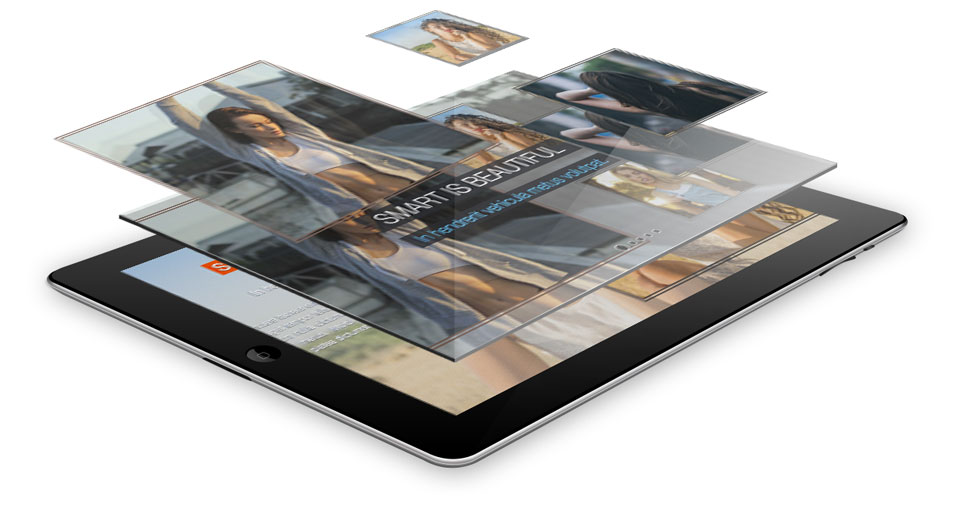 Responsive Design
This elaborated layer slider is fully responsive layout that scales to fit any screen size from a narrow smartphone to a large desktop screen, assuring your users enjoy the best possible performance from any device they use.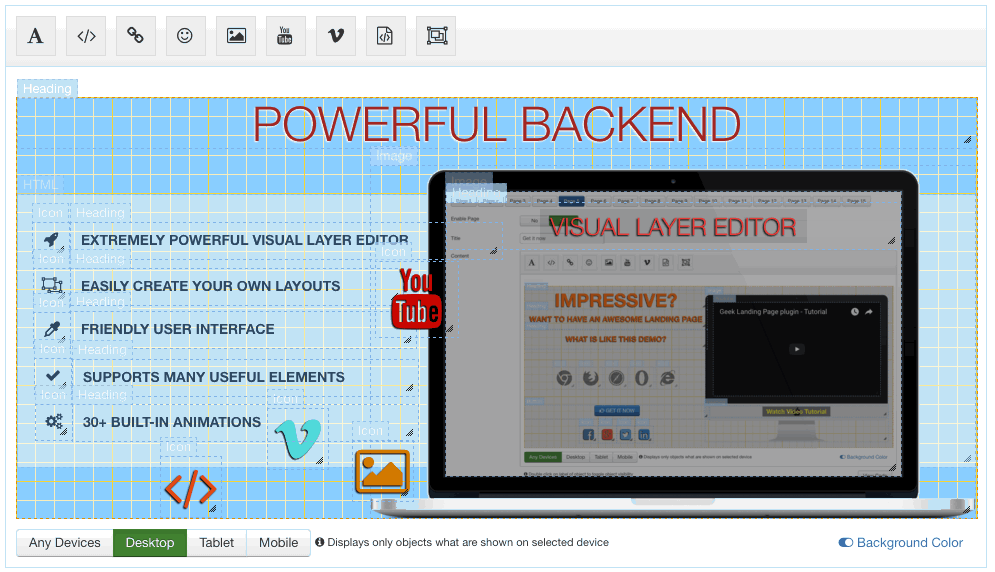 Support video background
From version 2.0.0 of Geek Layer Slider Module, you will notice on sliders that the backgrounds are not just boring solid colors or image, now you can use youtube videos as background to make the pages more appealing to the eye. Moreover, video filter effect defines the genre of creating quirky, interesting and cool-looking videos. A stunning video or animation in the background can easily make people increase the time they spend on the site, and hopefully lead to more interaction with the contents on the site.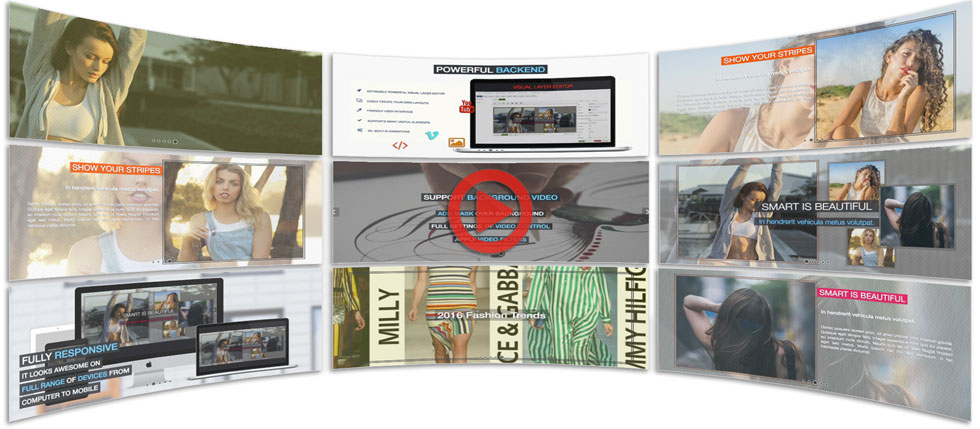 Support Mask over the background
Because there's always a new text and image combination, and because life's too short for boring photos, hence, new settings of adding mask over the background will help you to create impressive page with combination of image, text and colorful mask.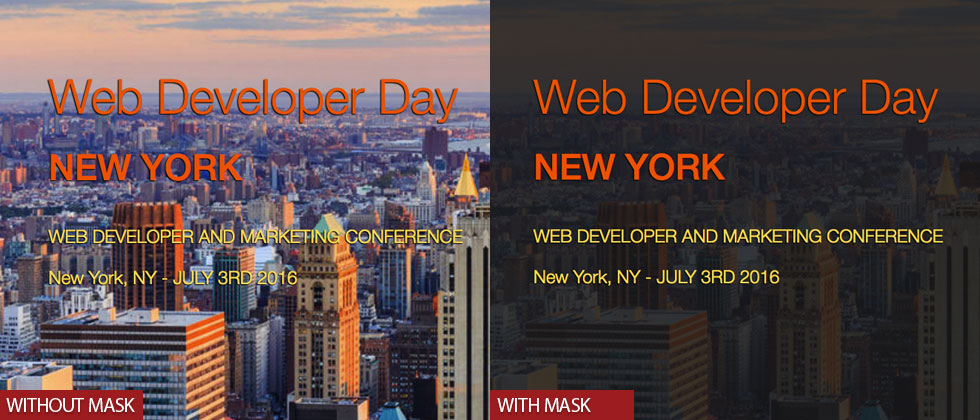 Upgrade steps
Backup Your Website
Download extension on product page
Upload and install module on your site
Love Geek Layer Slider?
If you love our Geek Layer Slider and want to help us to spread it to the world. There are some ways you can help.