We never get tired of making our products better so that you can be even more awesome using it. :)
Let's see what's in today's release.
After long time with endless effort , we are delighted to announce that version 3.0.0 of Landing Page Builder Plugin will be released today.
JoomlaGeek team would like to send special thankful to all your wishlists, suggestion so far toward this new version.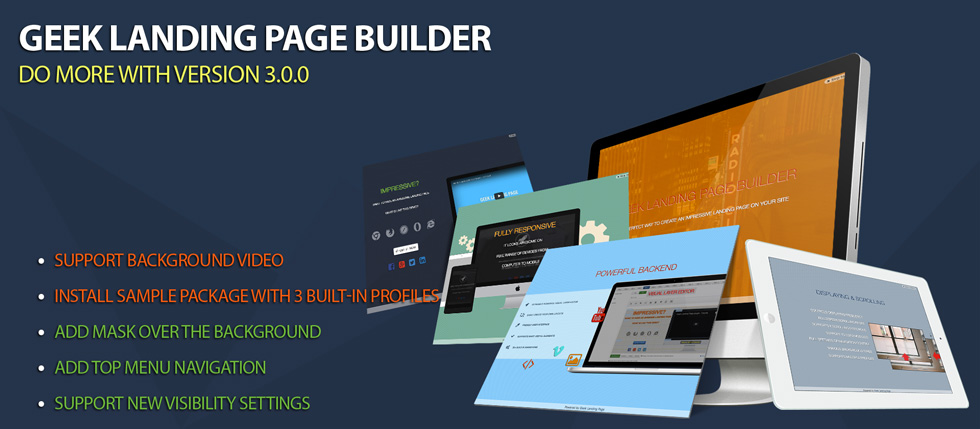 If this is the first time you heard of Geek Landing Page Builder extension? No problem, this blog included some sections below which are a quick grab of core features for you.
Quick overview
Landing pages are the bread and butter of any successful online marketing campaign. Landing page content that delivers the exact, specific information to website visitors. A Great landing page will maximize the conversion of passive website visitors into active leads or email list subscribers. For instance, the best landing pages out there feature almost no navigation whatsoever — not even a link to the homepage, etc. If you are still confused of how to create an effective landing page, please refer to the article How to Make a Great Joomla Landing Page for more detail.
With Geek Landing page builder plugin you can create fantastic Joomla landing page with your own style, this plugin is more user-friendly with quick settings changes for things like colors, fonts, backgrounds, headlines...etc.
Extremely Powerful and Friendly Backend Settings
You now can create well designed page without writing code since there is visual editor integrated in our Joomla landing page builder plugin. You can see the controls in the image below with all of the formatting options. In addition, you can also see the controls button that allows you to include images and other media with flexible setting of animations. All changes are being made on the fly and the content shows up on your display is exactly the way it will be when it is published.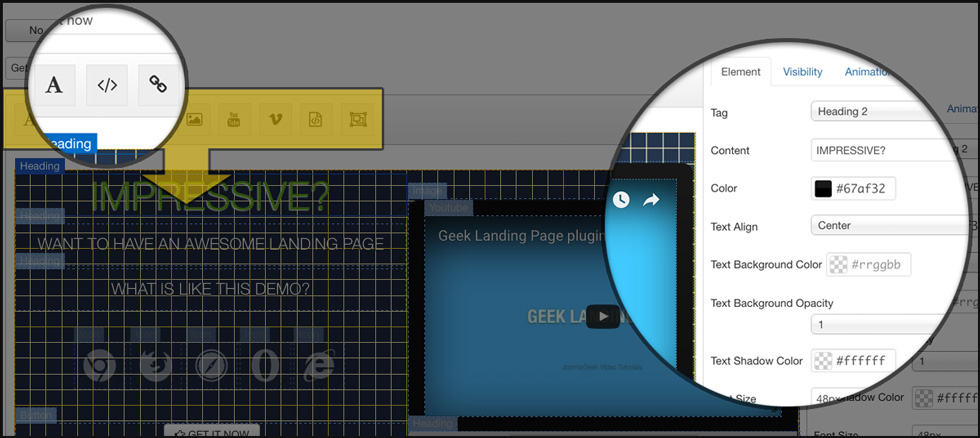 Drag-n-drop Page Builder
Drag and drop function that are integrated into the plugin, you can basically do whatever you wish with any page's design, and this sort of customization is available through a very easy to use interface.
Rich Layer Editor
Layer Editor fetured with all elements that are useful for creating impressive landing page with images, videos, headings, icons,..etc..
Responsive Design
The landing pages work well on most devices, so you won't have to worry about those people who browse the web on their phones – which is pretty much everyone now. In addition, the FullScreen Scrolling page is incredibly easy to use, and was created to work with responsive designs that offers vertical and horizontal scrolling.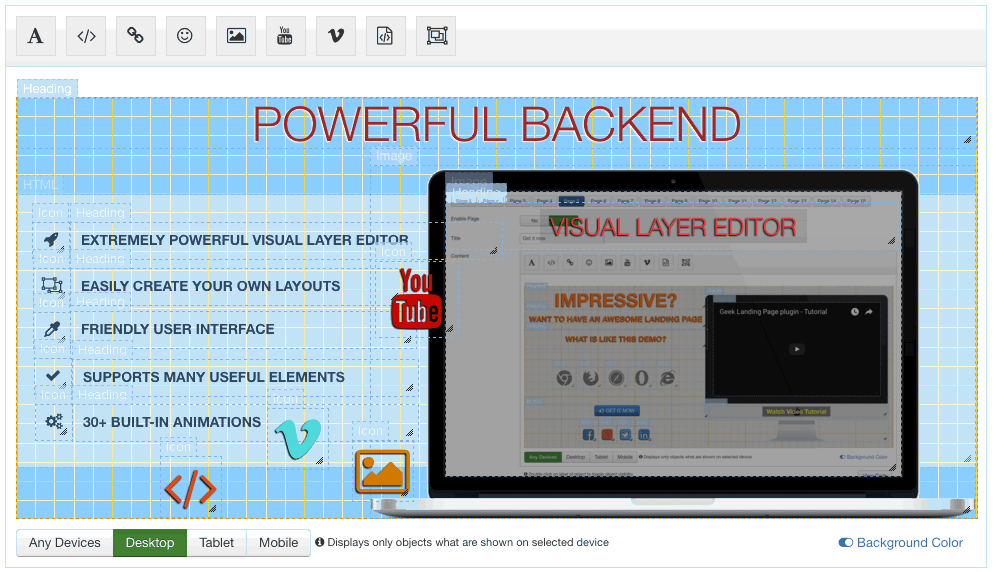 Easily create multiple landing pages
If you need a lot of landing pages fast or have found a style that gets incredible results, just click the clone button and replicate it… You can then make any tweaks, switch out to a different list to customize it.

What ought to know about the new version
Geek Landing Page Builder plugin sticks around the motto "Simplicity is Key". This statement is a cliche, but it indeed drives our direction of functionalities development and design and that's why we put the following core features in the front of design
Support video background
In the new version of Geek Landing Page Builder plugin, you will notice on landing page that the backgrounds are not just boring solid colors, now you can use youtube videos as background to make the pages more appealing to the eye. Video background is the best way to draw visitors' attention. Stunning video or animation in the background can easily make people increase the time they spend on the site, and hopefully lead to more interaction with the contents on the site.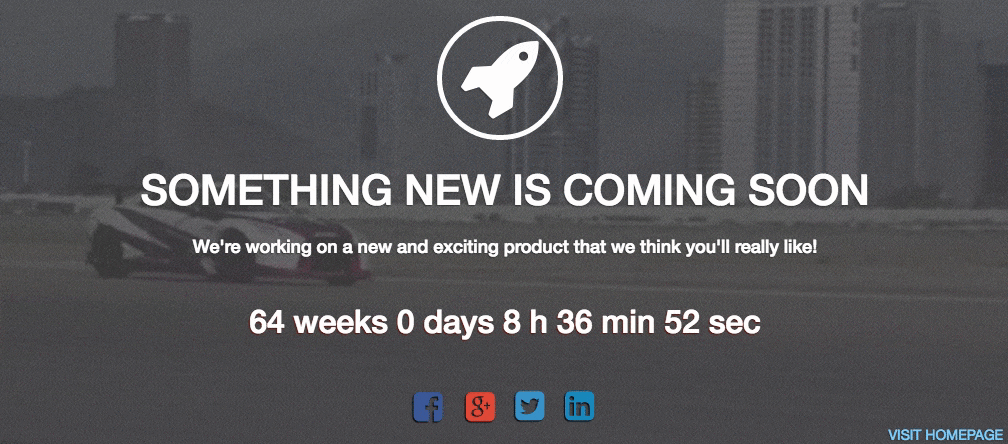 Support Mask over the background
Because there's always a new text and image combination, and because life's too short for boring photos, hence, new settings of adding mask over the background will help you to create impressive page with combination of image, text and colorful mask.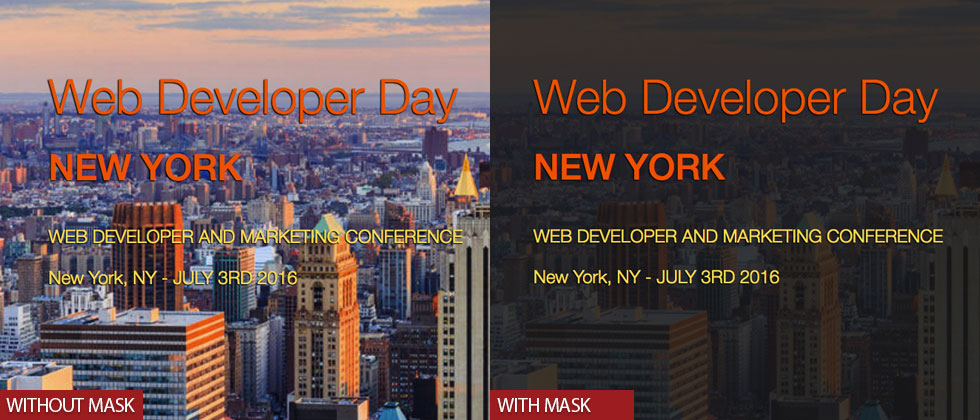 Build landing page from built-in Profiles
The page creation interface is clean and so are the built-in profiles offered. Simply select a profile, change the background, content ..etc that you want to make your page look just right.
In version 3.0.0 of plugin, JoomlaGeek team offers you 3 profiles which are :
Coming Soon Landing Page profile - If you need to create interest for something that doesn't exist yet? These "Coming Soon" landing page templates are perfect for sparking interest in your future offering. A tip for designing a "Coming Soon" page is not only to push the anticipation to a higher level, it also keeps visitors in the loop by getting them to subscribe to the news update.
Product Landing Page profile - Product landing page from JoomlaGeek can be used for any online product or service. Use the page to describe the benefits of your product or service, show off your killer photos or videos, and a clear call-to-action (CTA). This could be "Sign up" or "Download the app" or whatever action you want the visitor to take.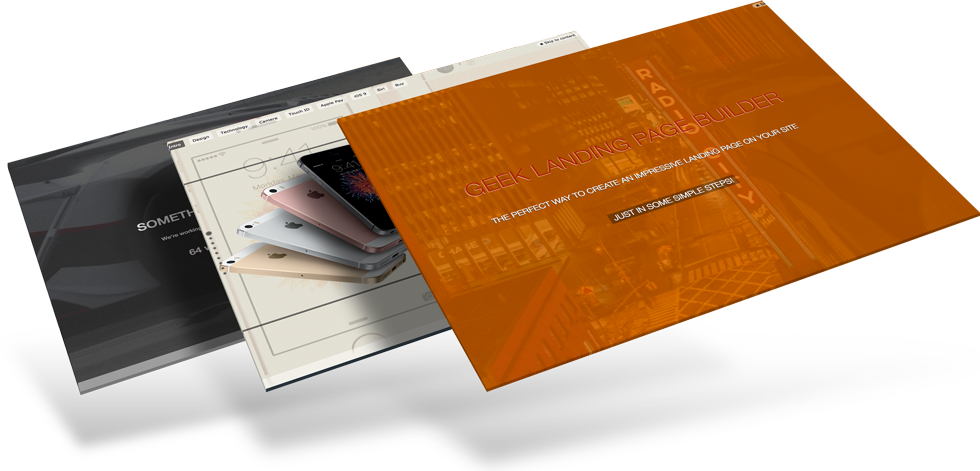 Installation of sample package will be mentioned under section Upgrade and Installation below.
More visibility settings
Adding more settings of visibility like text background color, text shadow, font size, font weight, border style, etc.. supports you to create a more rich content page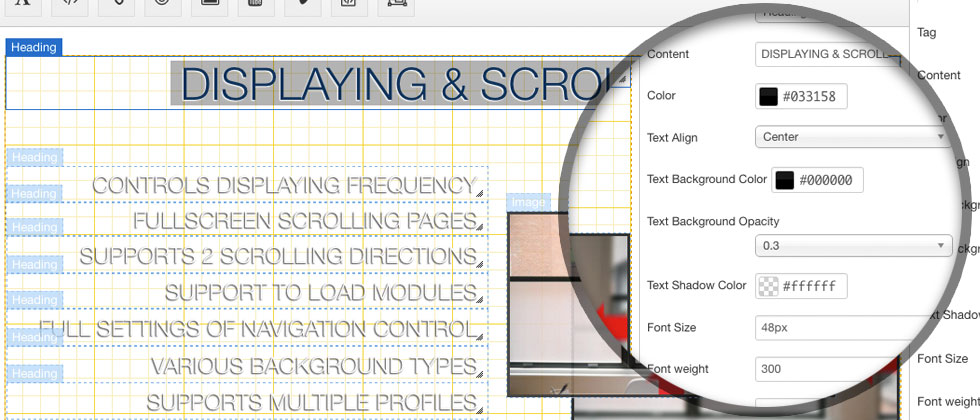 Top menu navigation
To be consistent with your landing page content, a top navigation provide a context for website users to find things they need quickly.

Some small improvements To Make Life Feel A Little Easier
Page management section is well organized with Tabs
New version of plugin improves page management section with Tab UI. This removes uncomfortability of current page management section when editing page content like scrolling up/down page or expanding/collapsing the accordion section.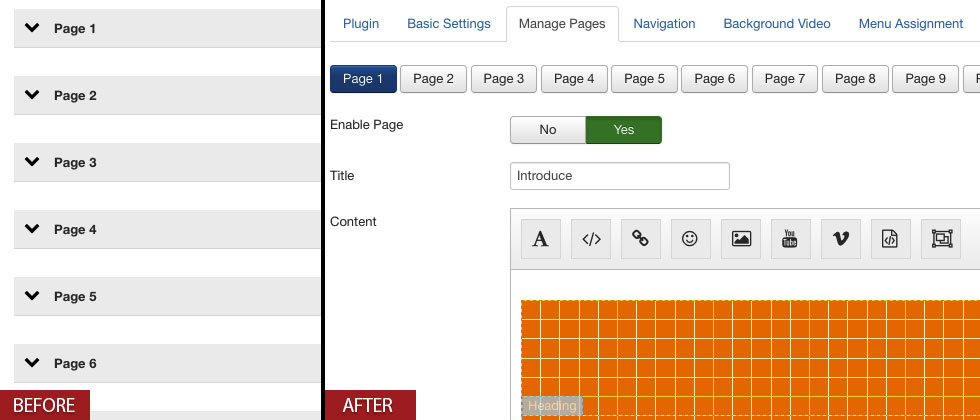 Turn on/off background image of Layer Editor with Toggle button
The improvement offers you an ability of setting color of an element on page matching with background color without saving setting or refreshing frontend page for further checking. This is time saving tips to improve designer's workflow.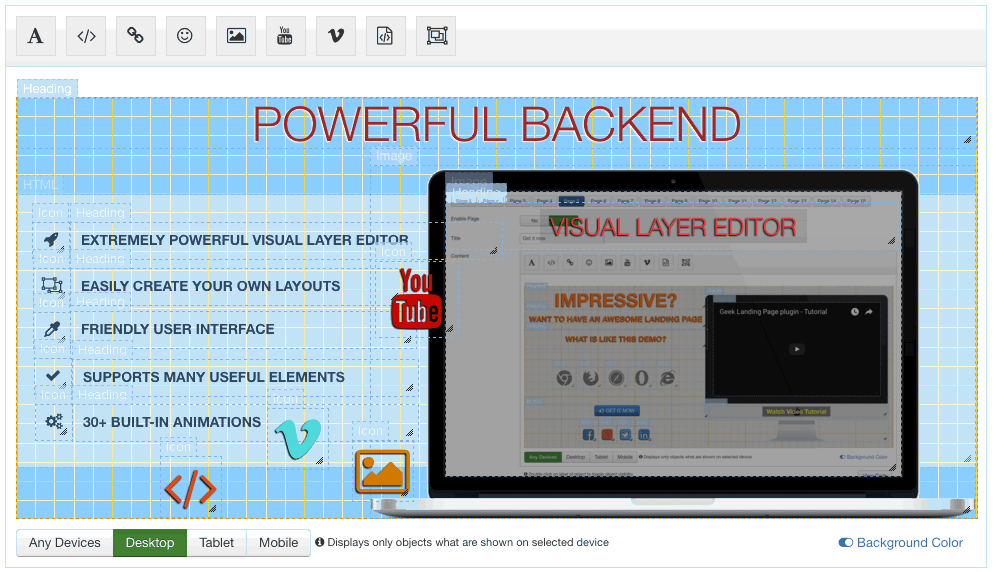 Support to turn ON/OFF loading Bootstrap Framework
If your template is not based on bootstrap framework, you might face with some issues of responsive like element hidden or shown in correctly on specific devices as you designed in backend. In this case, you should enable this setting to fix this issue.
Upgrade and Installation
How to upgrade plugin
Backup Your Website
Download extension on plugin page
Upload and install plugin on your site
How to install sample package with 3 built-in profiles
Download Sample Package plugin page
Install package as other Joomla extensions. After the installation, you can find the package as in image belows
Once sample package is installed, you will see 3 new profiles under profile manager section on Geek Landing Page's setting form.
Clone these profile, edit content as you want and assign them to the menu items where you want to display your landing page.
Note:
1.You need to clone profiles before editing, your changes will not be lost once you install sample package again.
2.The sample package size is larger than 6 MB. So, please ensure that your hosting allows to upload file size larger than 6MB.
Love Geek Landing Page Builder?
If you love our Geek Landing Page Builder plugin and want to help us to spread it to the world. There are some way you can help.