Any savvy inbound markets gets that the big challenges after getting visitors to a website is to convert them into leads for any business. So, what is the best way to gain this goal? Landing Pages, that's what!
Landing pages are considered as the heart and soul of an inbound marketer's lead generation efforts. By now, are you little confused about how to create an effective landing page, and wondering how to put all the pieces together on Joomla?
But are you a little Read on to learn how!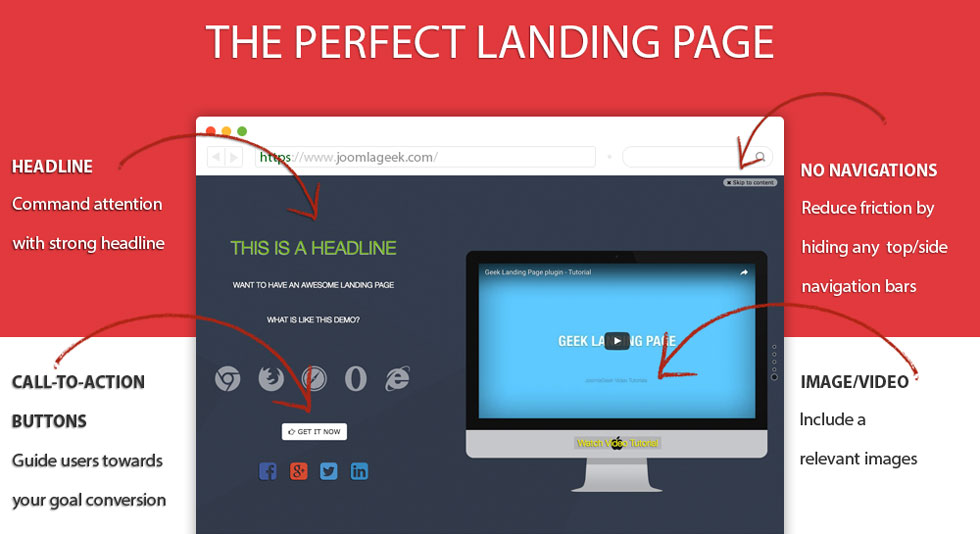 Start With the Intent of Page
Before building your landing page, the first thing to consider is the goal of that page. It may be to convert visitors into leads via free products. It mays be the sale promotion campaign. Or it might just be to increase the number of people on your subscribe list.
Based on the goal, you think about the ways you can most effectively communicate your offering to these specific individuals, and consider what elements will be instrumental in convincing them. Consider all element like language, social proof, etc. will help you build a general concept for landing page.
Grab attention with 6 Key Components
When designing a landing page, the followings key components should be taken into account to make an effective landing page:
Headline: The headline is the first thing visitors will likely see when they 'land' on a landing page. A great landing page headline sums up your offer as clearly and concisely as possible, and it should provide the answer for the question, "What will visitors who convert on this page receive?"
Typo: What you offer should be explained with clear and simply way. Bullet points can be used to demonstrate clears takeways, large blocks of text must be broken up, keep it as brief and succint
Keywords: To enhance the search engine optimization, keywords should be used in the page title, headers, and text on a landing page .
Social Sharing Buttons/Links: Grow your audience by making it easy for your visitors to like, share or send stories from landing page to their friends on Facebook , LinkedIn , and Twitter.
Hidden Navigation: A well design landing page should minimize distractions, reduce friction by hiding any top/side naviagtion bars. In this way, the chances that visitors will stay on the page and convert increased.
Image: Landing pages that include a relevant image give visitors a tangible idea of what they'll receive and make landing pages much more visually appealing.
Always Be Testing
Optimize a landing page for conversions over time. An effective landing page is to maximize conversion rate with combination of elements like A/B tests where two versions of a landing page or form are tested against each to see what gets more conversions. You need to change copy, images, and call-to-actions of each page to see what resonates most with users.
Create Effective Landing Page with Joomla extensions
Geek Landing Page Plugin allows you to easily create an impressive and highly effective landing page on your site just in some simple steps. It is very useful in case you want to quickly build a landing page to promote your new product or new campaign on your site without requiring redirecting to another page. Since it comes as a standard Joomla plugin, the plugin tolerates publishing a landing page to specific Joomla pages which is much easier than using an external micro website as a landing page.
Simple Backend Settings
You can find the work of building the landing page easier than ever without any coding. Simply drag and drop objects and style them with simple controls. In addition, Powerful Visual Editor that allows to view changes on the fly.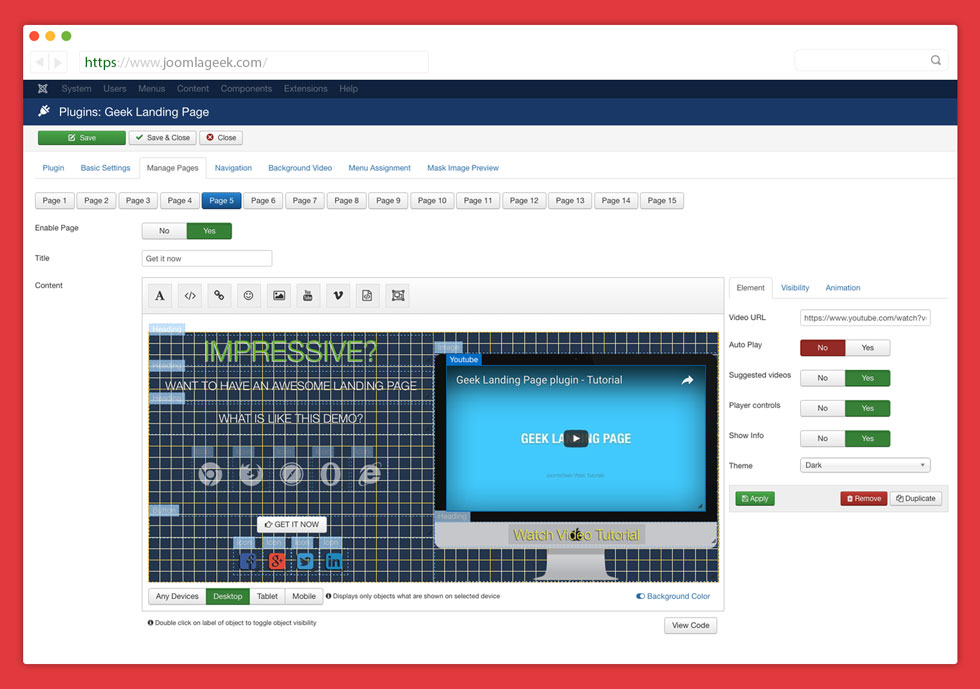 Fully Responsive Design
In the recent years, the developing of mobile technology is growing faster and fasster. As number of users use smartphone rapidly increases in 2014 - 70 percent of global polupaltion (digitaltrends, 2015), so does the importance of mobile-friendly websites.
Geek Landing Page Plugin excelled at display with different kind of screen solution. Furthermore, Geek Landing Page Plugin supports fullpage scrolling sites, which seamlessly create a positive user experiences no matter what the screen size.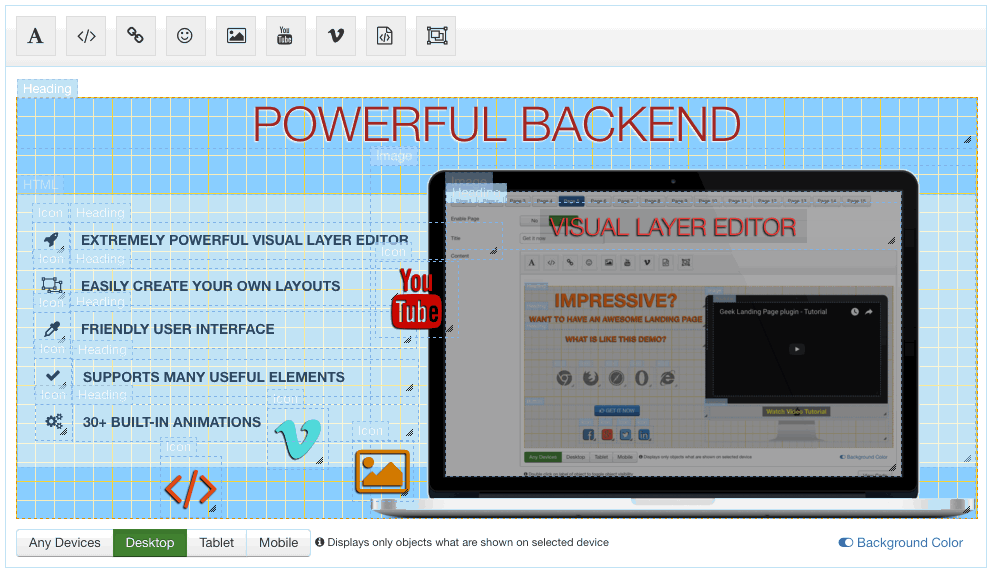 ..And More
New version of Geek Landing Page Plugin offers a list of rich new features that enbale you not to create effective Joomla landing page without coding.