Today we are proud to present to you the stable release of Geek ElasticSearch 4.2.0. This version of Geek ElasticSearch is packed with a new feature that specially supports location-based extensions, as well as some great improvements.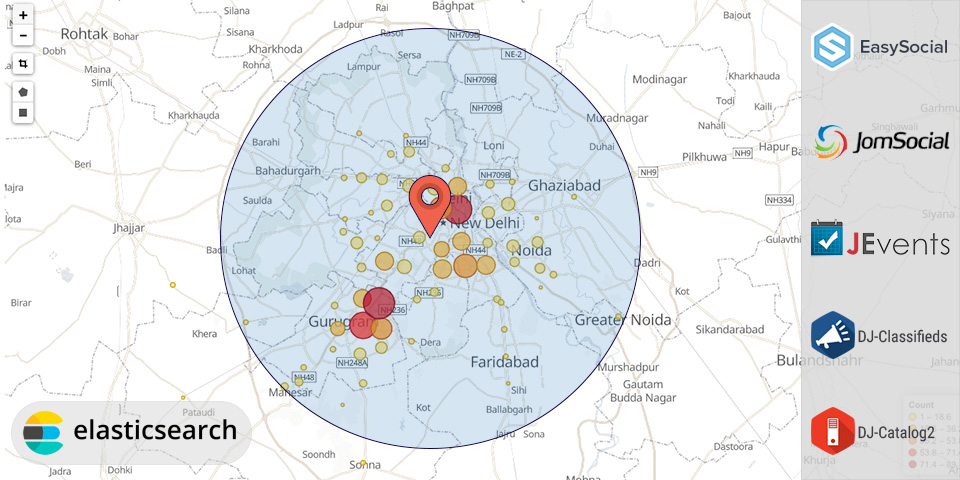 Geo-distance query
Geolocation is one of the best technologies today, and it is used in many types of location-based applications such as booking, social networks, ride-sharing, game,... We can name some popular ones such as Uber, Gas Buddy, Tripadvisor, Airbnb, Foursquare, Pokémon Go, …
For Joomla users, we can also find many extensions that enable us to build modern applications based on Geolocation services, such as EasySocial, JomSocial, JEvents, DJ-Classifieds, and many booking services, real estate extensions. Thanks to developers for these great extensions.
There is a common point of location-based applications that is they have a huge amount of data. So they need a fast, flexible and high performance search engine and especially the one that can support searching items based on its physical location.
Understanding the needs of customers, in the new version, we added a feature Geo-distance query that enables users to narrow search results within a specific distance from a geo point.

On the search form, there is a new input field that lets you search for locations with an autocomplete dropdown. When users start typing an address (minimum 3 characters), autocomplete will return place predictions in the form of a dropdown pick list. Using this field combination with the distance dropbox, users can find items within a specific distance from a certain place!
Try thinking about some examples that you can use this feature, such as searching for upcoming events around your location, looking for restaurants in Paris, seeking jobs in San Francisco, … That's a great feature!!!
In this release, we will support this Geo-distance query feature for following integrations: EasySocial, JomSocial, JEvents, EasyBlog, EasyDiscuss, DJ-Classifieds, DJ-Catalog2.
NOTES:
If you want to support this feature for other integrations, please feel free to contact us, we are happy to discuss and help you to customize our product to suit your needs.
IMPORTANT NOTES:
After upgrading to a new version, You will have to re-index all data to update Elasticsearch mapping and get new features work properly.
Sort faceted filters
Another great improvement packed in the new version is that you can now sort the displaying order of Faceted filters.
You can easily select which filters that you want to enable on search form as well as sort their order with a simple drag-n-drop function.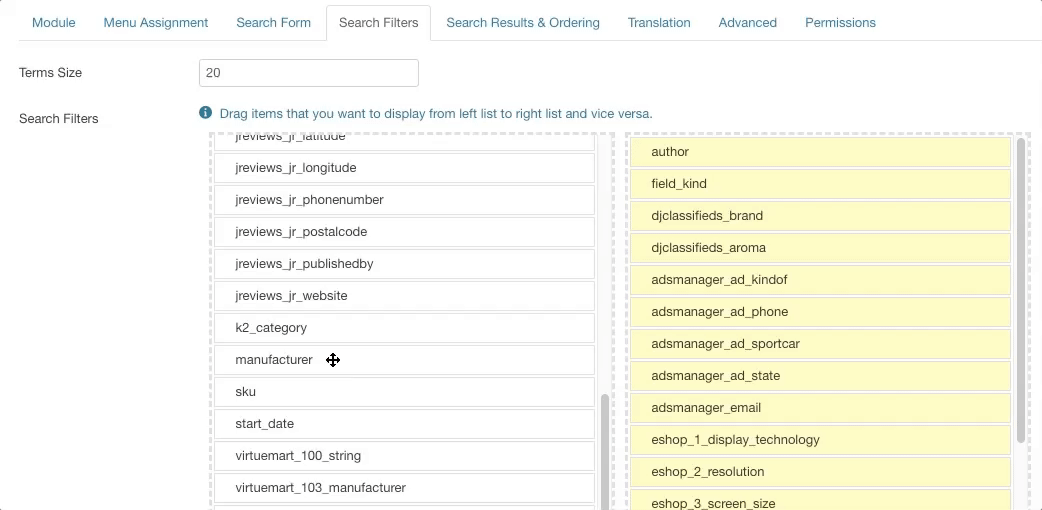 Other improvements and bug fixes
Update description cutter function to work smarter.
Fix bugs can select one facet option multiple times.
JEvents integration: support custom fields.
If you love our Geek ElasticSearch component, please help us to spread it to the world. by sharing this blog post on your social networks and writing a review on Joomla Extensions Directory.
And if you have any suggestions to improve extension or find any issue, please create a thread on forum, we are always ready to support.